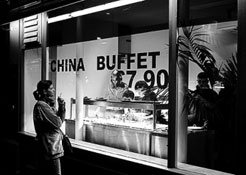 Chinese food served as a Buffet in one of the Chinese shops in London. Adaption of food in various cultures and countries can explain clearly the definition of Glocal trend. Cappellini is not new to this trend as it has always adapted its showrooms to the country it has reached. In Singapore with the chinese blue box, New York with Red Box, Australia with color of beach and sun, yellow and grey.
SOURCE: The change in the socio-economic system. User, etnography and user centred design. Marzia Mortati, Massimo Bianchini | Milano | Presentation in Scola Politeca on 3rd February 2008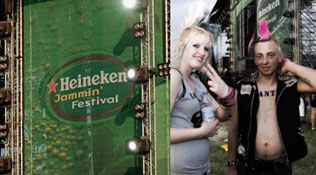 Continuing the tradition of using shipping containers to house all things pop-up, a spotting from the Netherlands caught our eye. At the Lowlands music festival, jeans brand Wrangler offered festival-goers a much-needed service: laundry. At 18 meters wide and 9 meters high, the Wrangler Laundromat was hard to miss. People dropped off their mud-encrusted laundry and were sent a text message the moment it was ready. No change of clothes? Wrangler came up with a generous solution to that problem, too: they handed out black overalls to anyone who used the laundromat. Wrangler delighted consumers in a way that magazine ads or TV spots usually can't.
SOURCE: www.trendwatching.com/trends/8trends2008.htm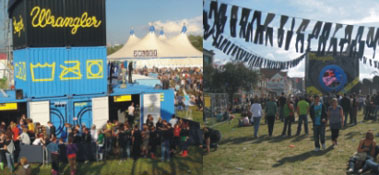 We have seen the gradual transformation from a product economy, to a product service economy and now we currently see the consumers moving toward an experience economy. The products they buy not only should it satisfy their need functionally but also provide an experience that the consumer remember and cherishes. This trend is strongly visible in the retail sector, where retail spaces offer certain unique and unforgettable experience to it users/customers that add value to the products or services showcased inside it. An ideal example is of the beer brand Heineken, which organizes Heineken Jammin' festival. The key idea is to penetrate the youth culture (since for Heineken that is it target consumers) & associate the brand to certain experiences in which the target group indulges in, example music, dance, etc.
SOURCE: The change ... design. Marzia Mortati, Massimo Bianchini | Presentation in Scola Politeca 03/02/08